Bluecol Antifreeze
was originally developed and manufactured by Smiths Industries, the aviation specialists and the name Bluecol was registered in 1934.
Bluecol Antifreeze
for years was original fill in many makes of vehicles including Jaguar, Rover, Land Rover, Bentley, Hillman, Triumph and MG to name a few, as well as most of the major bus companies and commercial truck fleet operators.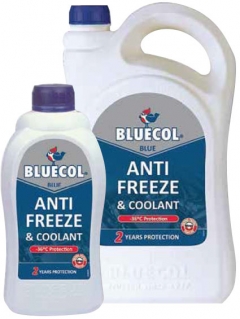 Bluecol 2 Year Antifreeze
2 Years protection
Bluecol 2 Year Antifreeze & Summer Coolant is a methanol free, ethylene glycol based antifreeze and engine coolant offering winter protection down to -36°C. It is suitable for all engine types including aluminium, and conforms to British Standard BS6580 (1992). Suitable for use in classic/vintage vehicles.
| Size | Part code | Barcode |
| --- | --- | --- |
| 1 Litre | BLA001 | 5010373039632 |
| 2.5 Litre | BLA025 | 5010373039625 |
| 5 Litre | BLA005 | 5010373039618 |
| 25 Litre | BLA225 | 5010373039601 |