Bluecol Antifreeze
was originally developed and manufactured by Smiths Industries, the aviation specialists and the name Bluecol was registered in 1934.
Bluecol Antifreeze
for years was original fill in many makes of vehicles including Jaguar, Rover, Land Rover, Bentley, Hillman, Triumph and MG to name a few, as well as most of the major bus companies and commercial truck fleet operators.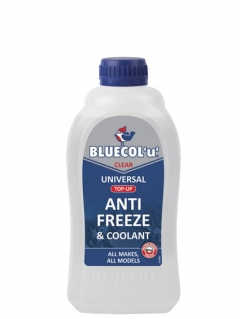 Bluecol 'U' Top-Up Antifreeze
Universal top-up antifreeze/coolant
Bluecol 'U' is a universal top-up antifreeze and coolant which is suitable for use in all vehicles and will mix with all colours of antifreeze already in the radiator/expansion tank.
When Bluecol 'U' is added to the antifreeze already in the cooling system, the synthetic process and additive package enhances and revitalizes the qualities of the original fluid, providing exceptional all year round protection in all driving conditions.
| Size | Part code | Barcode |
| --- | --- | --- |
| 1 Litre | BLU001 | 5010373039649 |
| 2 Litre | BLU002 | 5010373047750 |