Bluecol Antifreeze
was originally developed and manufactured by Smiths Industries, the aviation specialists and the name Bluecol was registered in 1934.
Bluecol Antifreeze
for years was original fill in many makes of vehicles including Jaguar, Rover, Land Rover, Bentley, Hillman, Triumph and MG to name a few, as well as most of the major bus companies and commercial truck fleet operators.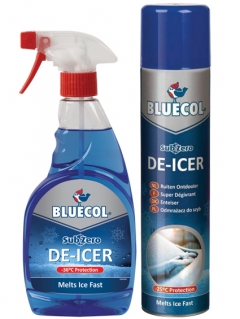 Bluecol Aerosol De-icer is a powerful and fast acting spray formulated to defrost windscreens down to -25°C.
Bluecol Trigger De-icer is a fast acting de-icer, formulated to effectively defrost windows and help prevent freezing down to -36°C. Bluecol De-icer also contains glass cleaner, for better and safer visibility in winter driving conditions.
| Package | Size | Part code | Barcode |
| --- | --- | --- | --- |
| Trigger | 500ml (-36 st.C) | BLD500 | 5010373039687 |
| Aerosol | 600ml (-25 st.C) | BLD600 | 5010373047330 |