Bluecol Antifreeze
was originally developed and manufactured by Smiths Industries, the aviation specialists and the name Bluecol was registered in 1934.
Bluecol Antifreeze
for years was original fill in many makes of vehicles including Jaguar, Rover, Land Rover, Bentley, Hillman, Triumph and MG to name a few, as well as most of the major bus companies and commercial truck fleet operators.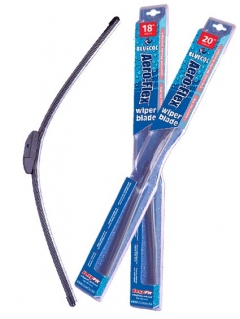 Bluecol Aero-Flex Wiper Blade
Flexible graphite advanced wiper blades
Aero-Flex wiper blades can be used as a direct replacement for the original wiper and the innovative 'retro-fit' fitment adaptors are suitable for use on over 96% of vehicles on the road.
The aerodynamically designed, flexible Bluecol wiper blades are specifically designed to follow the curved shape of vehicle windscreens. The advanced wiper blade technology covered with graphite and combined with low profile design, offers increased windscreen contact compared to traditional wiper blades.
| Size | Part code | Barcode |
| --- | --- | --- |
| 14" - 355mm | BLW014 | 5010373047927 |
| 15" - 380mm | BLW015 | 5010373047934 |
| 16" - 406mm | BLW016 | 5010373047941 |
| 17" - 432mm | BLW017 | 5010373047958 |
| 18" - 455mm | BLW018 | 5010373047965 |
| 19" - 482mm | BLW019 | 5010373047972 |
| 20" - 508mm | BLW020 | 5010373047989 |
| 21" - 533mm | BLW021 | 5010373047996 |
| 22" - 559mm | BLW022 | 5010373048009 |
| 24" - 610mm | BLW024 | 5010373048016 |
| 26" - 660mm | BLW026 | 5010373048023 |
| 28" - 711mm | BLW028 | 5010373048030 |