CarPlan
offers everything needed to clean, valet and care for your car, inside and out.
CarPlan
is the number one selling car care brand in the UK, and has been manufacturing first class car care products since the 1960's. Due to our experience, heritage and market research we continually update and develop our car care products to meet changing customer and car enthusiast needs across the word.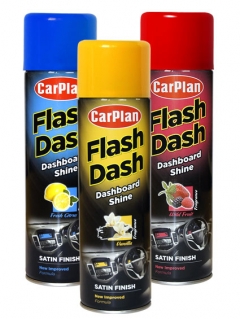 Flash Dash 'Silicone-Free'
Dashboard shine - Satin Finish
The New improved, Silicone-Free, water based formula effortlessly protects interior and exterior trim against drying, cracking and fading whilst removing ingrained dirt and grime.
CarPlan Flash Dash leaves a rich satin finish recreating a natural new look particularly suitable for modern vehicles. After cleaning Flash Dash leaves a pleasant air freshening fragrance to refresh the vehicle. Available in 5 fragrances: citrus, apple, wild fruit, orange, vanilla.
The foam cleaning technology also protects dashboards against the build up of dirt and grime, to keep surfaces dust free and cleaner for longer.
| Fragrance | Size | Part code | Barcode |
| --- | --- | --- | --- |
| Fresh Citrus | 500ml | FSC506 | 5010373053102 |
| Wild Fruit | 500ml | FSS506 | 5010373053133 |
| Vanilla | 500ml | FSV506 | 5010373053140 |
| Apple | 500ml | FSA506 | 5010373053126 |