CarPlan
offers everything needed to clean, valet and care for your car, inside and out.
CarPlan
is the number one selling car care brand in the UK, and has been manufacturing first class car care products since the 1960's. Due to our experience, heritage and market research we continually update and develop our car care products to meet changing customer and car enthusiast needs across the word.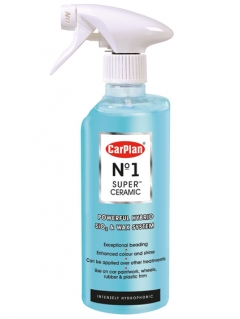 No1 Super Ceramic
Powerful hybrid SiO2 & wax system
CarPlan No.1 Super Ceramic is an intense combination of Si02 and wax. The advanced Si02 polymer technology delivers an intensely hydrophobic finish, utilising ceramic particles. The high tech formula forms a shield to protect your vehicle from dirt and contaminants.
No.1 Super Ceramic has been formulated to mask swirls and holograms, enriching colour and restoring a brilliant finish with a silky feel, whilst leaving a sweet bubble gum scent. The drag free finish allows for easier future cleaning and can be applied over existing paintwork treatments.
No professional application is needed, No.1 Super Ceramic is effortless to use and designed to deliver professional results every time.
| Package | Size | Part code | Barcode |
| --- | --- | --- | --- |
| Trigger - Liquid | 600ml | CNC600 | 5010372020365 |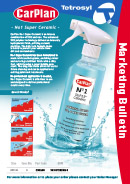 CarPlan No1
Super Ceramic