T-Cut
is the world's most respected Car Care brand. Continually asked for by name,
T-Cut
delivers top quality, with a wide range of performance products for renovation and restoration of car paintworks. From the
T-Cut Original
formula to the new innovative
T-Cut 365 Kits
.
T-Cut
is available in many variants depending on the kind of paintwork, color, condition, age and the extent of damages.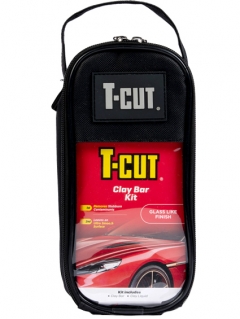 T-Cut Classic Clay Bar Kit
For a smooth, mirror-like paintwork finish
T-Cut introduce their all new Clay Bar Kit. Clay Bars create a smooth as glass, mirror like finish on all paintwork and increases the depth of shine when waxing or polishing. Claying removes stubborn contaminants that ordinary shampooing cannot remove. The T-Cut Clay Bar Kit is car cleaning's best kept secret and it makes a really big difference to how your car's paint looks and feels.
Kit contains: Clay Bar, T-Cut Clay Liquid 500ml, Exclusive T-Cut Clay Wax 500ml, Microfibre Cloth.
| Package | Size | Part code | Barcode |
| --- | --- | --- | --- |
| Kit | 2x500ml | CBK106 | 5010373048795 |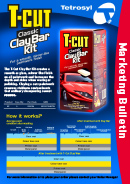 T-Cut
Clay Bar Kit