T-Cut
is the world's most respected Car Care brand. Continually asked for by name,
T-Cut
delivers top quality, with a wide range of performance products for renovation and restoration of car paintworks. From the
T-Cut Original
formula to the new innovative
T-Cut 365 Kits
.
T-Cut
is available in many variants depending on the kind of paintwork, color, condition, age and the extent of damages.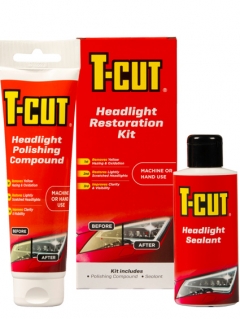 T-Cut Headlight Restoration Kit
Resore yellow or lightly scratched headlights
Do you hale foggy, scratched or yellow headlights?
The T-Cut Headlight Restoration Kit is a specially designed compound and sealant that works together to rejuvenate back to a "like new" crystal clear finish. Created to improve headlight clarity and light visibility by removing abrasions and haziness from uncoated clear, plastic headlights. The compound plus sealant combination leaves the treated area brilliantly clear, polished and protected. This kit does not require the use of drills or tools and is the ideal solution for do-it-yourself remedy that is effective and easy to use.
Kit contains:
T-Cut Headlight Polishing Compound 75g
T-Cut Headlight Restorer Sealant 125ml
Mikrofible Cloth
| Package | Size | Part code | Barcode |
| --- | --- | --- | --- |
| Compound+Sealant | set | THK001 | 5010373058732 |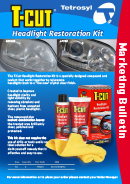 T-Cut
Headlight Restoration