The famous Wonder Wheels range is a group of high-quality products used for the cleaning and conditioning of car wheels and tyres. Our Wonder Wheels Super Alloy Wheel Cleaner is a multiple AutoExpress magazine test winner and the best selling wheel cleaner on British market.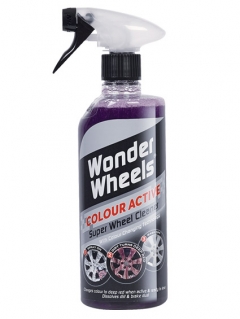 Wonder Wheels Colour Active Wheel Cleaner
Changes colour when ready to wash off
Acid free wheel cleaner which contains a colour active indicator that turns deep purple as it reacts with and dissolves, dirt and brake dust.
| Package | Size | Part code | Barcode |
| --- | --- | --- | --- |
| Trigger | 600ml | WWH600 | 5010373073223 |
| Trigger | 1ltr | WWH100 | 5010373084366 |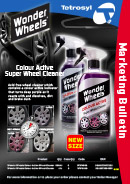 Wonder Wheels
Color Active