The famous Wonder Wheels range is a group of high-quality products used for the cleaning and conditioning of car wheels and tyres. Our Wonder Wheels Super Alloy Wheel Cleaner is a multiple AutoExpress magazine test winner and the best selling wheel cleaner on British market.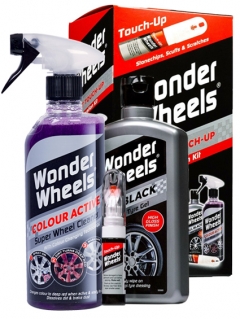 Wonder Wheels Paint Touch-Up Restoration Kit
Repairing small chips and scratches
Wonder Wheel Touch-Up Pens are ideal for repairing small chips and scratches on your car wheels.
Touch-Up Pen includes a brush for any large scuffs and a precision nib for more intricate repairs. Restoration kit is available in three gloss finish colours: silver, gunmetal and black.
The kit includes:
Wonder Wheels Colour Active Super Wheel Cleaner 600ml
Wonder Wheels All Black Gloss Tyre Gel 500ml
Wonder Wheels Touch-Up Pen
| Package | Colour | Size | Part code | Barcode |
| --- | --- | --- | --- | --- |
| Kit | Silver | Kit | WTU001 | 5010373104514 |
| Kit | Gunmetal | Kit | WTU002 | 5010373104507 |
| Kit | Black | Kit | WTU003 | 5010373104491 |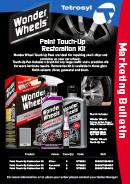 Wonder Wheels
Paint Touch-Up Kit