The famous Wonder Wheels range is a group of high-quality products used for the cleaning and conditioning of car wheels and tyres. Our Wonder Wheels Super Alloy Wheel Cleaner is a multiple AutoExpress magazine test winner and the best selling wheel cleaner on British market.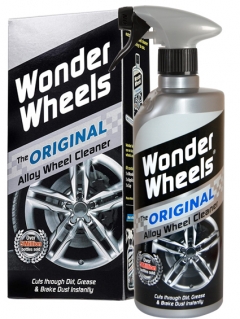 Wonder Wheels The Original Alloy Wheel Cleaner
Cuts through dirt, grease & brake dust instantly
This revolutionary wheel cleaning set removes stubborn, thick film from general traffic pollution and baked on brake dust, leaving a clean and polished surface.
It is designed for use on the majority of alloy and metal wheel types, as well as plastic wheel trims.
| Package | Size | Part code | Barcode |
| --- | --- | --- | --- |
| Cleaning Kit | 500ml | WWK500 | 5010373019344 |
| Liquid | 5ltr | WWC005 | 5027824150006 |
| Trigger | 600ml | WWO600 | 5010373074008 |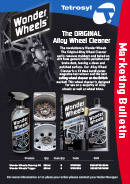 Wonder Wheels
Wheel Cleaner