A group of general workshop consumable products which give support to the mechanical workshop jobs, i.e repair and installation of exhaust system, suspension maintenance, repair of the brakes and mechanical components etc.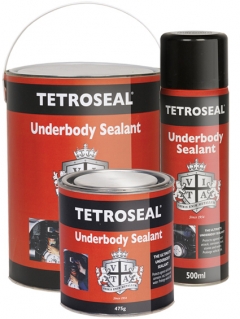 Tetroseal Underbody Sealant
Protects against salt, corrosion, stones and water
Provides a highly viscous, bituminous coating designed for sealing and protecting car chassis and it protects against corrosion, water, salt and stones. It has a superb sound deadening ability.
| Package | Size | Part code | Barcode |
| --- | --- | --- | --- |
| Aerosol | 500ml | TSL506 | 5010373105733 |
| Liquid | 475g | TSL006 | 5010373105726 |
| Liquid | 950g | TSL101 | 5010372019789 |
| Liquid | 4.5kg | TSL501 | 5010373105719 |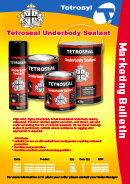 Tetroseal
Underbody Sealant