T-Cut
is the world's most respected Car Care brand. Continually asked for by name,
T-Cut
delivers top quality, with a wide range of performance products for renovation and restoration of car paintworks. From the
T-Cut Original
formula to the new innovative
T-Cut 365 Kits
.
T-Cut
is available in many variants depending on the kind of paintwork, color, condition, age and the extent of damages.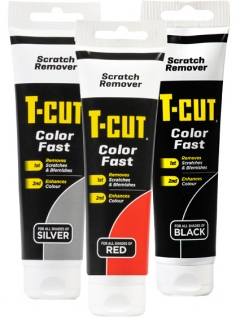 T-Cut Color Fast Scratch Remover
Removes scratches & adds colour
T-Cut Color Fast Scratch Remover is an innovative product that removes scratches and blemishes, whilst bringing back the original depth of colour in one simple application. T-Cut technology is enhanced by nano particles that allow for easy application with excellent results. Colour pigments work with all shades of given colour.
| Colour | Size | Part code | Barcode |
| --- | --- | --- | --- |
| Green | 150g | CSG150 | 5010373039823 |
| Red | 150g | CSR150 | 5010373039809 |
| Silver | 150g | CSS150 | 5010373039847 |
| Blue | 150g | CSU150 | 5010373039830 |
| White | 150g | CSW150 | 5010373039793 |
| Black | 150g | CSB150 | 5010373039816 |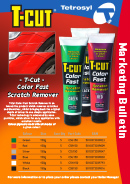 T-Cut
Color Fast