The famous
Triplewax
range has recently seen a complete update and range extention. This range offers everything you could possibly need to care for your car. Incorporating a wide range of high quality and innovotive shampoos, waxes, interior and exterior cleaning products, a complete Pressure Washer range and Accessories.
Triplewax Microfibre Accessories
Microfibre is extremely absorbent, soft and highly effective at cleaning and drying, making it an ideal material for use in valeting products. The Triple Microfibre Accessories range includes microfibre cloths, pads and mitts which are perfect for washing, drying and polishing.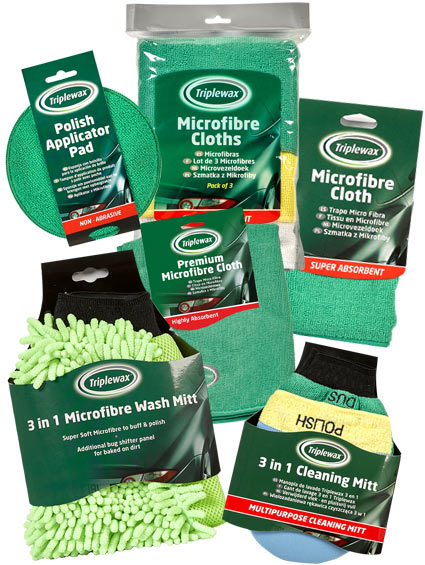 Triplewax Microbfibre Cloth
Suitable for valeting and household use. The Microfibre construction is highly absorbent and super soft so will not scratch any surface. Use when wet for general cleaning and when dry for smear and lint free polishing.
| Part code | Barcode |
| --- | --- |
| CTA002 | 5010373036457 |
Triplewax Microfibre Polish Applicator Pad
Allows you to evenly apply polish or wax with minimum effort. Can also be used to remove dirt and moisture from dashboards and glass surfaces.
| Part code | Barcode |
| --- | --- |
| CTA022 | 5010373036471 |
Triplewax Microfibre Wash Pad
Highly absorbent sponge that have the ability to trap dirt, allowing to clean surfaces with minimum effort and without scratching. Use with warm water and Triplewax Shampoo to clean all exterior car surfaces.
| Part code | Barcode |
| --- | --- |
| CTA023 | 5010373036488 |
Triplewax Microfibre Washing Mitt
Super soft and so it will not scratch any surface. Use to polish and add a shine to paintwork, glass, dashboard, trim and wheels for a smear and lint free finish.
| Part code | Barcode |
| --- | --- |
| CTA126 | 5010377036631 |