T-Cut es una de las marcas más conocidas en el mundo del cuidado del automóvil. T-Cut es sinónimo de calidad superior, con una amplia gama de productos de alto rendimiento para la renovación y restauración de las pinturas del automóvil.
Desde el Restaurador de Color Metallic hasta la fórmula innovadora del T-Cut 365, la marca T-Cut está disponible en muchas variedades, dependiendo de la clase de pintura, color, condición, edad y el grado de los daños sufridos .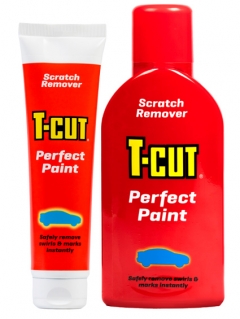 Gentle on paintwork whilst as good as T-Cut Original! Can be used on all car paintwork to remove scuffs, swirls and scratches from the surface.
It can also restore dull colour to its original look and lustre. Metallic, pearlescent or water borne paint finishes will be restored with T-Cut Rapid scratch remover.
T-Cut, keeping our cars looking great since 1954.